Junior School is an important phase of a child's education. During these formative years, students are encouraged to gain a broader understanding of the world and increase their ability to learn and problem-solving aptitudes as the foundation of life long skills. 
At Mutiara International Grammar School, the National Curriculum for England is central to all areas of study.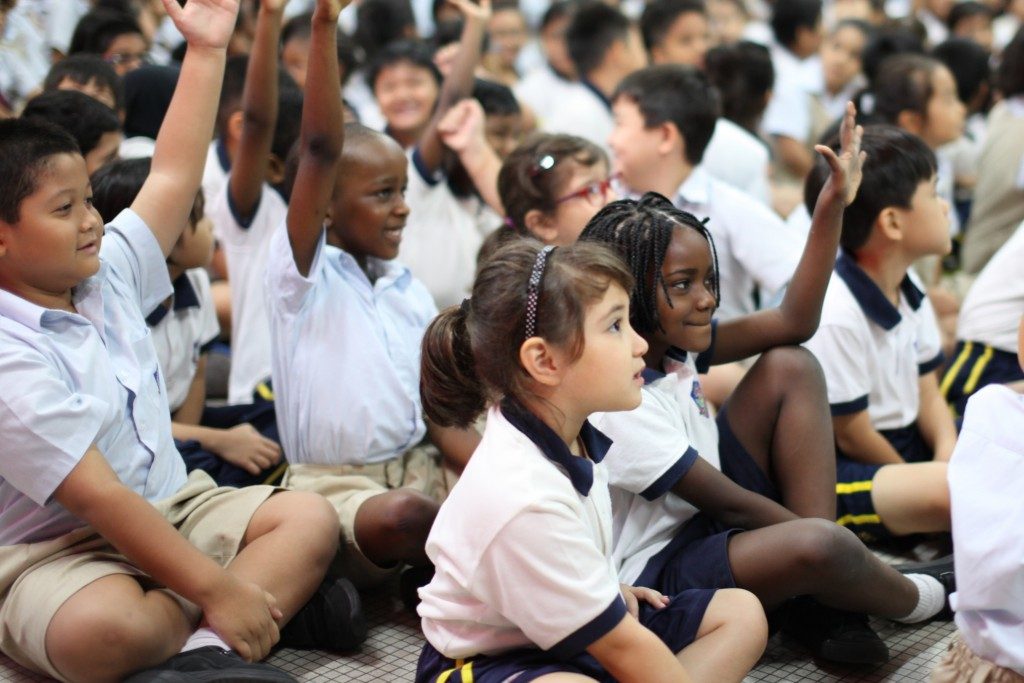 The School follows the English National Primary Curriculum embracing a pedagogical approach that integrates the Cambridge framework into the teaching and learning programme. It lays a strong foundation for the learners' personal development while empowering them with strong academic depth. Our planning incorporates modern educational practices and schooling strategies that facilitate the present requirements of the 2014 English National Curriculum, challenging and preparing the learners for excellence and value-added life long learning.
Teaching and learning in the Junior School is centered around the Core and Foundation Subjects – English, Mathematics, Science, Social Studies, Art and Design, ICT, Music, Physical Social Health Education, Islamic Studies, Modern Foreign languages (Bahasa Malaysia, Communication Malay, French, Mandarin) and Physical Education.  
Integrated Teaching and Learning Programme
Our teaching and learning programme features project-based learning approaches exploring a kaleidoscope of integrated and interdisciplinary strategies. STEAM and various other cross-curricular and interdisciplinary learning that extends into our CCA programmes enriches and strengthens our curriculum and empowers our learners with relevant futuristic skills. 
To provide students with opportunities outside the classroom, learning is complemented by a diverse range of activities to discover their interests and talents. Cross-curricular approaches, educational trips, reading programmes, and classroom activities are linked with everyday lessons, providing students with a platform to apply their aptitudes. 
Primary Assessment and Reporting
The school-wide assessment and coursework practices adopt an integrated and comprehensive assessment structure that focuses on 60% formative (assessment for learning) and 40% summative progressive evaluation (assessment of learning). 
Each academic year implements a termly e-reporting procedure that announces the progress of learners to parents.  Learning outcomes that are set on clear expectations and procedures, guide and help us track the progress of our learners, be it inside or outside the classroom. 
Continuous assessment practices follow throughout the academic year with two major diagnostic options:- 
Cambridge Primary Progression Tests (Only for Key Stage 2) These tests are administered in English, Mathematics and Science subjects and are marked internally. This will provide a detailed summary of the learner performance through structured teacher feedback.  

Cambridge Primary Checkpoint (Year 6)


They are marked in Cambridge at the end of the primary programme for English, Mathematics, and Science.  This will provide a detailed and comprehensive diagnostic report on the learners' performance level throughout the year.

Parent-Teacher Conferences  


We support all our parents to achieve the dreams they nurture for their child's educational progress and development.Termly scheduled and calendared parent-teacher conferences are conducted to discuss their child's learning growth with us.

End of Term Report Cards


At the end of each academic term, a report card provides a comprehensive compilation of the teaching and learning formative and summative grades.  Students receive a progress indicator for each subject with an acknowledgment of their effort through the term, as well as their strengths and areas of growth.
Junior School encompasses two Key Stages – Key Stage 1 and Key Stage 2.
| KEY STAGE | AGES | YEAR GROUP(S) |
| --- | --- | --- |
| Key Stage 1 | 5-7 | Years 1-2 |
| Key Stage 2 | 7-11 | Years 3-6 |