A library is a place for students to find knowledge, discover and learn new things to supplement what they have already learned in class. The library is a step towards fulfilling MIGS desire to enable more independent learning and creative self-study in a conducive and comfortable environment. Recently refurbished, the library spans an impressive 3,000 square feet, the library is home to a broad and in-depth collection of references texts, and tomes of knowledge (and fiction for entertainment) that caters to both the needs and interest of the students and the school's curriculum. 
The refurbished and expanded facility now boasts a designated computer zone now hosts six individual computers, all with high-speed internet access to support additional study and research opportunities online. 
To encourage group work, cooperation and foster teamwork, designated study areas have been established for students in Reception, Junior and Senior School. The group spaces can also be used as an extra collaboration space for students within and across year groups and the different branches of the school. For students who need a quiet place to study, there are private study alcoves dotted throughout and also a meeting room available for student use as necessary.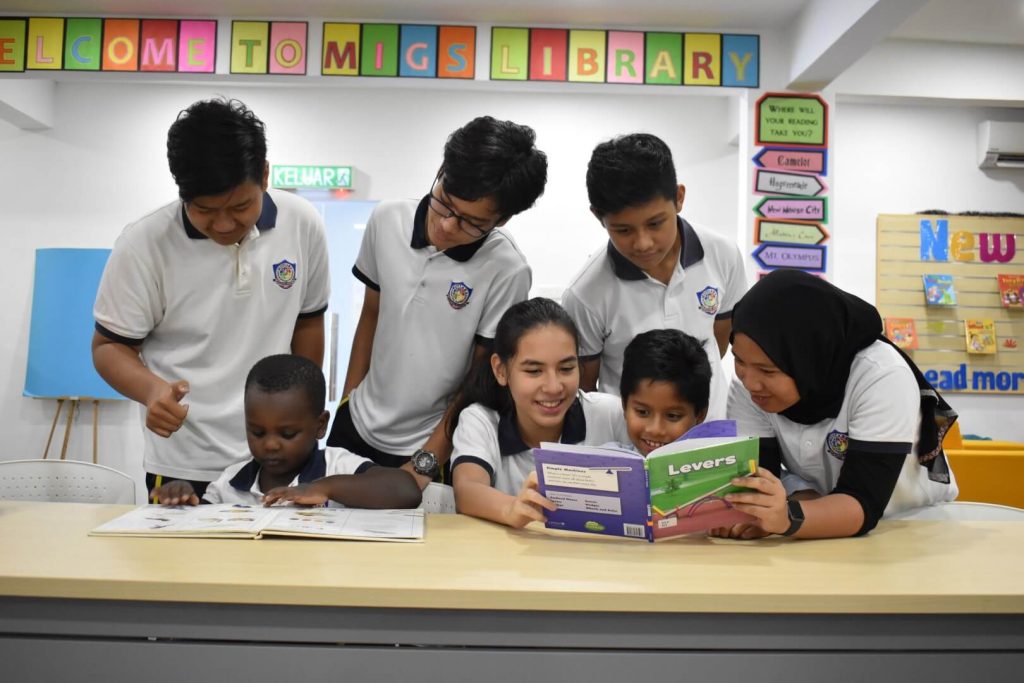 Opening Hours
Monday to Tuesday: 7.30 a.m. – 4.30 p.m.
Wednesday to Friday: 7.30 a.m. – 4.00 p.m.
Collection
The collection is divided into the following sections:
Elementary level fiction and non-fiction

Primary level fiction and non-fiction

Secondary level fiction and non-fiction

Reference Sources

Teachers' Resources

Professional Development Resources

Dictionaries (Bahasa Malaysia, French, Mandarin, Korean and Arabic)

Magazines and journals

eBooks
Borrowing Policy
Reception to Year 3: 1 book per week
Year 4 to Year 6: 2 books; 2 weeks
Year 7 to Year 11: 2 fiction and 2 non-fiction books; 2 weeks
All Junior School students are given a library/study period during which they can borrow and return books.
Library Charges
The library reserves the right to charge for replacements and the processing fee for any lost or "long overdue" items, or items which have been damaged.