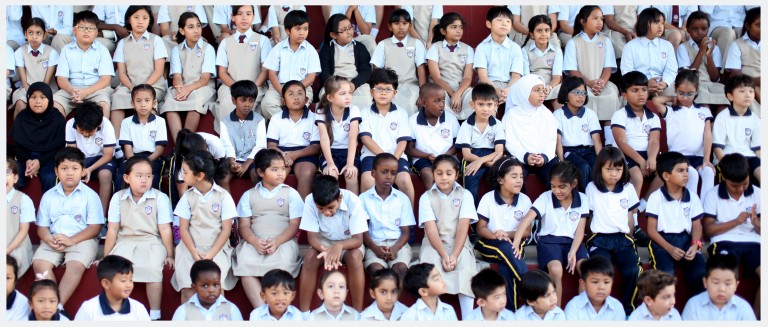 Mutiara International Grammar School focuses on creating a supportive, stimulating and safe learning environment. Our students hail from over 30 countries and create a uniquely diverse multicultural environment. Our educators ensure that learning goes beyond academics, including the discovery of personal interests and extracurricular passions.
Academically Adept
The curriculum offered at Mutiara gives our students extensive learning opportunities. We offer activities that extend learning beyond traditional learning spaces. Combined, these experiences setup lifelong learn habits that lead to academic and career success.  Mutiara believes that giving students a rigorous academic syllabus will challenge and spur them to excel. Continuous Assessments via coursework and other assignments help students achieve their academic goals, identify weaknesses and ensure that they are well prepared for their examinations. The strength and continued success of the students of Mutiara International Grammar School is a testament to our academic rigor.
Holistically Developed
The key to a holistic, well-rounded education goes beyond academics. Mutiara also places emphasis on the physical, social and emotional development of our students. We offer a range of sports and stimulating extra-curricular activities and competitions. This enables our students to discover, and refine skills and talents that will complement their academic achievements. The combination of holistic development with academic excellence creates well rounded individuals who are prepared for the future.
Universally Inclined
Mutiara International Grammar School students become part of an inclusive community that embraces diversity and celebrates internationalism. A student body representing over 30 nationalities lets Mutiara students connect and learn about people, cultures, and places from around the world as a part of their day to day life.  Students develop an instinctive and comprehensive understanding of different national and international communities academically and holistically, ensuring that they will succeed across the globe.
Ethically Refined
Mutiara International Grammar School focuses on providing a holistic, well-rounded education that develops academics and also emotional and psychological growth. Mutiara students are instilled with good moral values and judgment to become people of good virtue. Mutiara fosters a community that expects respect and courtesy to fellow students, teachers, and staff as a norm.